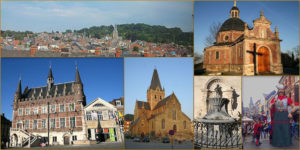 The Catalan Center and the Luxembourg Catalan House of Brussels I invite you once again to celebrate Halloween together in Benelux Geraardsbergen / Grammont (East Flanders) of 19 to the 20 d'octubre. We stayed at the youth hostel 't Schipken within the provincial domain De Gavers.
The program is as follows:
Wednesday:
15h: visita per Geraardsbergen / Grammont on, among other things, we'll see if his Manneken Pis has anything to envy in Brussels
18h: dinner and celebration of Halloween with chestnuts, buns and muscatel (make a good note of dinner time because the dining room closes at 7 p.m.!)
Wednesday:
Breakfast at the hostel and excursion to find out if autumn has reached the forests of the provincial domain De Gavers and the river Dender.
Prices (include: dinner Saturday, Hostel accommodation including -llençols- and Sunday breakfast):
• 45 For over € 12 years,
• 40 € for children under 12 years
• Free for children 3 years
Please bring towels and personal effects. Also shoes and clothes suitable for hiking in the woods.
Sign up by sending an email to Catalan House of Brussels and tell them the number of people and ages. As places are limited, Hurry to complete registration: You have until Thursday 3 d'octubre.