Wednesday 28 we will meet in a new one Chocolate and Tales, this time around the topic of water. We will start at five in the afternoon (time of Catalonia) with the structure you already know: an hour of short activities, very diverse, For all the family. Again, we will have the songs of Angel Daban and Noah Rivas, crafts, riddles… In addition to chocolate and stories, of couse.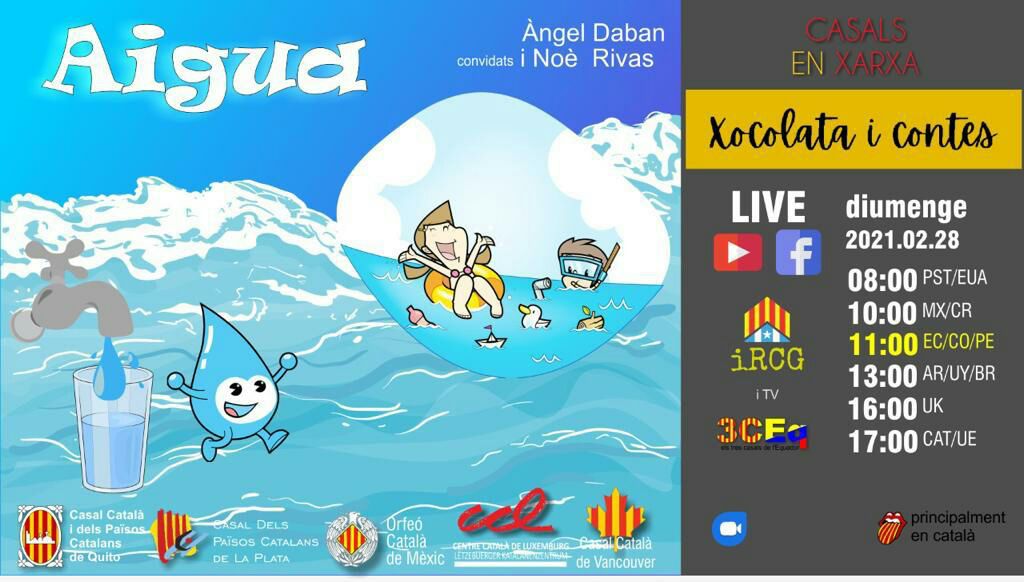 This time there will be two crafts; but you can only make one if you prefer. Here are the materials you will need:
First craft:
A tall glass bottle or glass
Food coloring
Water
It was
Effervescent tablet
Second craft:
Ceramic plate
Dry-erase markers the newer the better
Water
This special Chocolate and Water Tales will be free through the Zoom program and broadcast by Casals en Xarxa and the social networks of casals in Ecuador, organizers of the activity together with the Casal dels Països Catalans de la Plata, the Orfeón de México, the Catalan Center of Luxembourg and the Catalan Center of Vancouver.