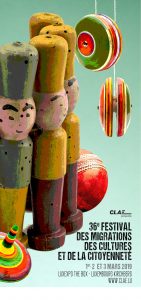 The first weekend of March (1-3), Our annual event returns to the pavilion exhibition LuxExpo – The Box, in Luxembourg City. Held edition 2019 del Migration Festival, Cultures and Citizenship, organized, every year, he CLAE.
Hundreds of associations are displayed the diversity of the communities living in Luxembourg. Will be three days of music, discussions, gastronomic diversity and more in a festival that annually visit more 25.000 people. I, every year, the sample is combined with a new edition of the Salon du Livre de Luxembourg, meeting point for writers, editors and readers of all cultures and languages ​​present in the Grand Duchy and its area of ​​influence.
The Catalan Center Luxembourg will be present with a stop of about Catalonia and the Catalan Center, and sale of food products that are not easily found in Luxembourg (per example, hot Aneto), found in the Festival of Migrations. Obviously, will also be present at the Book Fair with our traditional Catalan library, the latest publications in Catalan and Spanish.
This year, in addition, we have a very interesting additional activity: the presentation of the animated film Black is Beltza, in the presence of its director, Basque Fermin Muguruza, organized in collaboration with AREL.
Those willing and able to devote some time to help us in any of the booths CCL, you will be most welcome. You can send an email with your availability to our usual address. Many thanks in advance.