Wednesday 18 November has 18.30 we present the conference "Women of the International Brigades" by the historian Jordi Martí-Rueda. Given the current health restrictions, we will talk through the Zoom app.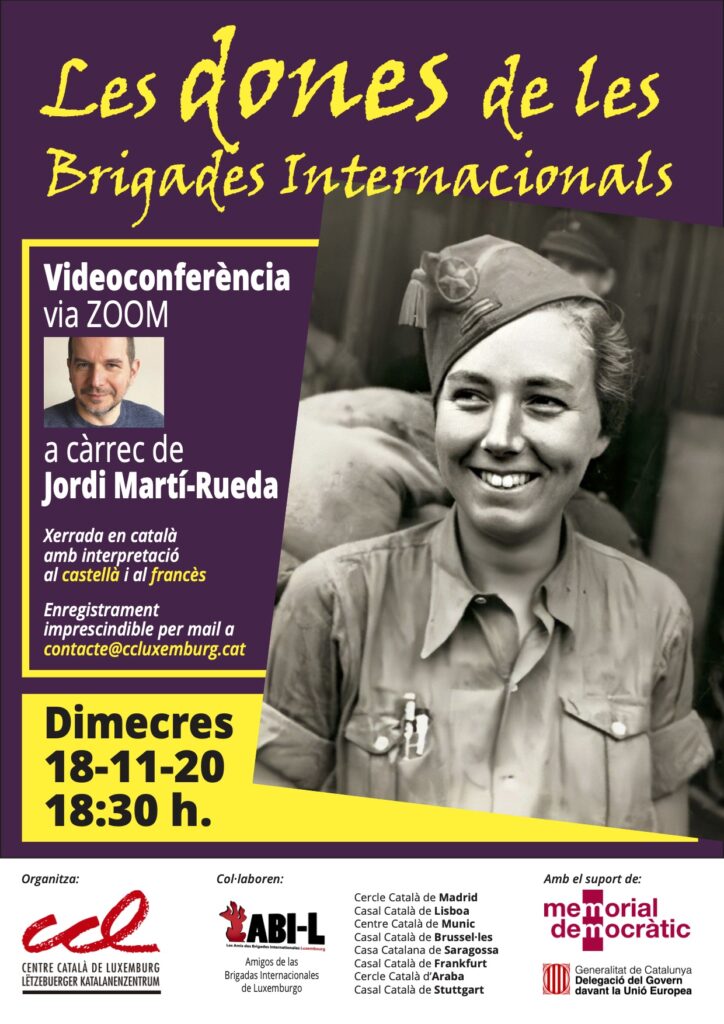 Everyone has heard of the brigadiers, those young people from all over the world who went to fight in the Spanish Civil War to stop fascism. However, the role of women in those International Brigades is less well known. For this reason, we will talk to a Civil War expert who has thoroughly studied the issue.
This is a collaboration between the CCL, he Catalan Circle of Madrid, he Catalan House of Brussels, he Catalan House of Lisbon, he Catalan House of Munich, he Casal Català de Frankfurt, he Catalan Circle of Araba, he Stuttgart Catalan House, the Catalan House of Zaragoza i ABI-L, which receives the support of Democratic Memorial and the Delegation of the Generalitat to the EU. For organizational reasons, this time it is essential to register in advance at the Our contact address. Besides, we will have interpretation in Spanish and French.
About the author:
Jordi Martí-Rueda is a historian, specialized in the Spanish Civil War, and has published two monographs on the subject:
Touched by the wind. Five human stories of the International Brigades and the Civil War (Farmers Publishers, 2014). He received the Liberisliber non-fiction award 2015 and has been translated into Spanish as Five rebels. Human Histories of the International Brigades and the Civil War (Editorial Milenio, 2017).
Brigadiers. Lives for freedom (Paper tiger, 2020), currently in fourth edition. It has a prologue by photojournalist Jordi Borràs and an epilogue by former councilor Raül Romeva.
On the other band, has participated in audiovisual projects on these topics, per example, the Interpretation Center "Internationals on the Ebro", of the Memorial Consortium of the Battle of the Ebro, i the documentary Invisible Heroes. African-Americans in the Spanish Civil War. He is currently a technician in the General Directorate of Democratic Memory, of the Department of Justice of the Generalitat de Catalunya.