On the first weekend in December, we present two activities around Xesco Boix. The second will be on Sunday 5, in the afternoon: a Chocolate and Tales in person with Àngel Daban and Noè Rivas.
This year, the children's singer-songwriter and animatorXesco Boix would have done 75 years. To remember him and pay tribute to him, there have been several activities everywhere, including aChocolate and Tales virtual organtizat, others, pel CCL. However, we considered that this almost legendary figure deserved much more and now that the conditions allow it we organize two face-to-face activities to round off what we had started.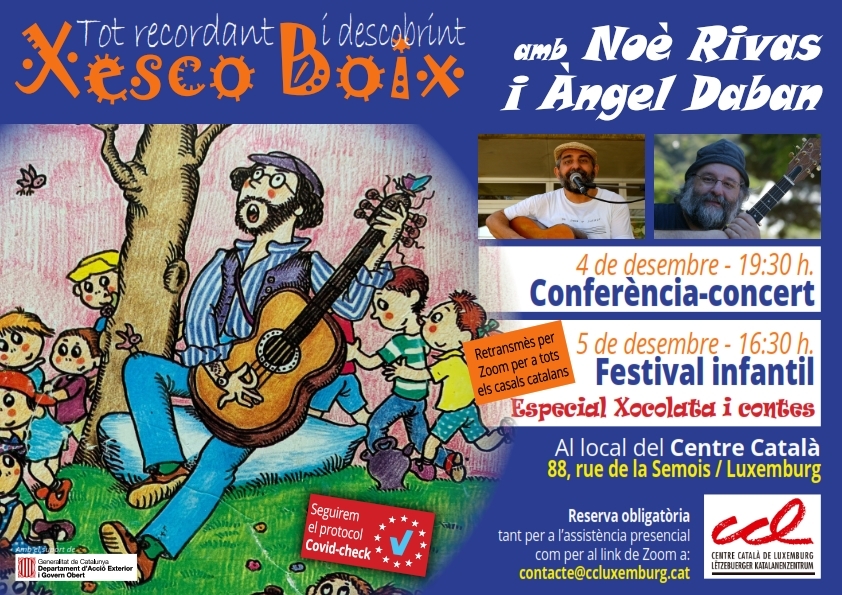 After Saturday's conference, Sunday 5 December, at 16.30, we look forward to seeing you all, small and large, in our place for a children's festival that will be a special Chocolate and Tales, presential, with songs by Xesco Boix. They will be interpreted by two experts, Noah Rivas and Angel Daban, regular contributors to the Chocolate and Tales he organizes, among others, el CCL. The format will be the usual, but better, because we can all be there physically.
This activity is free but with a reservation required for ourscontact address, because theprotocol CovidCheck. Reservations are also required if you are unable to come and prefer to zoom in.