Thursday 28 de maig a les sis de la tarda mantindrem una conversa via Zoom amb la periodista Teresa Carreras per parlar sobre periodisme. Ho vincularem, once again, a tots els canvis provocats per la COVID-19. Per això la titularem:
La pandèmia també confon al periodisme en alguns països europeus
What do you think of the media treatment of the coronavirus crisis? It can be reported without alarm or, on the contrary, underestimate the danger? What is the state of health of today's journalism?? How journalism is done from confinement? How the virus and health measures have affected the journalistic profession? How will the media adapt to the "new normal"?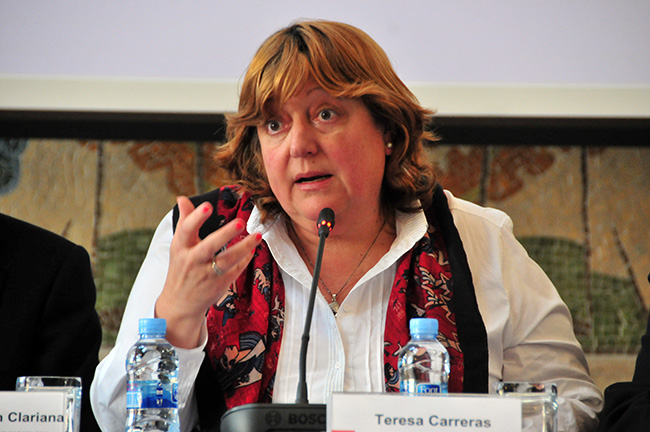 These are some of the questions we can ask Teresa Carreras from Mataró, periodista i professora de Periodisme, col·laboradora de la UAB.
Corresponsal a Catalunya del setmanari El Siglo, dirigeix el programa de ràdio setmanal «Cruïlla d'Europa». In fact, Europa és una de les seves especialitats. Després de treballar durant anys al circuit català de Televisió Espanyola, va ser enviada com a corresponsal a Brussel·les d'aquest mateix canal. Hi va estar deu anys i, en tornar a Catalunya, va continuar vinculada a TVE, on va arribar a cap d'informatius a Catalunya. Avui continua sent una europeista convençuda. Com a prova, pertany a l'Associació de Periodistes Europeus de Catalunya, que va presidir durant nou anys. Ha treballat també al diari Today i a programes com Redes (amb Eduard Punset) and El Debate de la 2 (amb Josep Puigbo). Periodista de raça i molt convençuda de la importància de l'anomenat «quart poder», s'interessa també pel feminisme. Una mostra és el seu paper com a sòcia fundadora (i durant anys, també directora) de l'agència de notícies amb perspectiva de gènere La Independent. I actualment és la coordinadora europea del capítol regional de la xarxa GAMAG (Global Alliance for Media and Gender).